Non-Slip FRP Hazard Strips
$41.15 – $82.30
Dino Grip Non-Slip Hazard Strips are hatched patterned (Black and Yellow) to help create a high level warning on the edge of platforms or in areas where the public can potentially fall. They are ideal to be used around lakes, railways, swimming pools, boat docks/ramps, high level edges and more.
Overview
Colours
Specification
Install Guide
Data Sheets
 Dino Grip Non-Slip Hazard Strips are a prefabricated retrofitting solution, designed to tackle the problem of slippery surfaces and providing a caution warning. Our Non-Slip Hazard Strips are manufactured from FRP (Fiber Reinforced Plastic) / GRP (Glass-fiber Reinforced Plastic) to provide an extremely tough and durable safety flooring solution.
Need a different size? Call us to ask about our FREE custom cutting service!
Pedestrian Walkway
Theme Parks/ Attractions
Boat/ Fishing Docks
Industrial/ Factories
Fire Stations/ Police Stations
Medical Facilities
Disclaimer:
Dino Grip will not be responsible for shade or color variation caused by application or substrate deficiencies, or fading resulting from natural causes such as weather.
Anti-Slip / Non-Slip
5 Year Guarantee
Price Match
Tough & Durable
Quick and Easy to Install
Easy to Clean
Caution Warning
Cut to Size
NON-SLIP
Dino Grip Non-Slip Hazard Strips are designed to have a feathered edge on both sides to eliminate any trip hazards.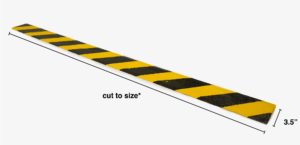 PRE-DRILLED HOLES
Dino Grip Non-Slip Hazard Strips come with pre-drilled holes as standard, unlike others on the market. This saves time-on-site and makes application quick and simple.
2″ Strips – 7 Pre-drilled holes per meter.
3.5″ Strips – 14 Pre-drilled holes per meter. 
DURABLE
Dino Grip Non-Slip Hazard Strips are manufactured from FRP (Fiber Reinforced Plastic)/ GRP (Glass-fiber Reinforced Plastic) to provide an extremely tough and durable product.  These types of products have been used successfully in the most extreme environments.
CORROSION RESISTANT
Dino Grip Non-Slip Hazard Strips are resistant to a wide range of chemicals and is perfectly suited for use even in the harshest of environments. Chemical resistance guides are available on request.
DO IT YOURSELF INSTALLATION
Dino Grip Non-Slip Hazard Strips are designed for 'Do It Yourself' (DIY) installations. No adhesive is required to install the product.  All you need are the Hazard Strips, screws and a battery-operated drill!
AESTHETICS
Dino Grip Non-Slip Hazard Strips complement existing decking areas by making a feature of the Strips against the wooden decking as well as providing a safe non-slip surface.
5 YEAR GUARANTEE
It is warranted that all materials and workmanship utilized in the manufacture of Dino Grip Non-Slip products are of the highest quality, and furthermore that these products will be:
• Resistant to wear under normal use and conditions.
• Resistant to degradation from surface exposure to the weather.
• Resistant to corrosion and a range of chemicals.
• Resistant to delamination through thermal expansion inequities.
• Resistant to delamination through impact except for the immediate impact zone.
If the Dino Grip Non-Slip products fail to comply with the Warranty, we shall replace such products at no cost to the customer within a period of 4 weeks after official notification.
HOW TO INSTALL NON-SLIP HAZARD STRIPS
STEP 1 – PREPARATION & SAFETY
The wooden decking surface should be swept and then cleaned with a suitable decking wash to remove mildew and algae. Such cleaners are readily available on the market, or, use our very own Decking Wash. This will make for an easier installation, lengthen the lifespan of your decking and the Non-Slip Hazard Strips, and ensure the surface is as non-slip as possible.
All rotten decking should be removed and replaced prior to the installation of Non-Slip Hazard Strips.  The Decking Strips are only designed to be installed onto ready existing surfaces. Decking which is questionable or rotten may give way, and is unsafe for foot traffic.
When installing Dino Grip Hazard Strips, we recommend that PPE (personal protective equipment) be worn, including safety gloves and glasses, as the strips are made of textured fibreglass.
STEP 2 – FIXING & TOOLS
You'll need a drill with a screwdriver head and enough screws to secure the strips to the decking boards. The amount of screws needed per strip can be found in our FAQ here.
We recommend that the Dino Grip Non-Slip Hazard Strips be fixed into place using a 1 9/16″ stainless steel flanged headed screw.  We do not recommend installing the Hazard Strips using standard screws because these will rust, stain the decking and not sit flat, thereby creating an additional trip hazard.
Dino Grip can provide stainless steel screws, which are available for purchase on our website.
STEP 3 – CUTTING NON-SLIP HAZARD STRIPS
We are able to cut down any size strip to the size you need before shipping – just let us know when placing an order. This service is absolutely FREE.
If you need to cut the Hazard Strips to size yourself during your installation, we recommend that a suitable dust mask with protective safety goggles and gloves are worn.
The decking strips should be cut outside or in a well-ventilated area using a hack-saw, a jigsaw (with a tile blade), or using a hand grinder.
Dust residue can be disposed of using normal waste disposal methods. No special permissions or licenses are required.
STEP 4 – INSTALLING NON-SLIP HAZARD STRIPS
Our Hazard Strips are all pre-drilled to install instantly! Simply set down all your Hazard Strips, ensuring they are in the correct place and the correct size, and drill into place using an electric drill – with the correct screwdriver head, and screws.
CLEANING & MAINTENANCE
The decking surface should be cleaned regularly.  This allows all surface debris to be removed and reduces the build-up of mildew and algae, which are slippery and can cause a hazard.
The best way to keep your decking clean and anti-slip, is by using a mould and mildew cleaner, which can be applied using a stiff broom and removed with clean water.
The security of the fixings should be checked on a regular basis. Circumstances will vary, based upon the volume of foot traffic, etc. but, as a guide, monthly inspections are advised in high traffic areas.
Dino Grip Hazard Strips are high performance safety products, made from high quality FRP (Fiber Reinforced Plastic)/ GRP (Glass-fiber Reinforced Plastic). They are ideal for use in high traffic walkways, decking areas, pontoons, ramps, boat docks, access bridges, etc.
Wooden decking areas are notorious for becoming slippery when wet or with algae growth. Hazard Strips are an easy alternative for those slippery areas and can be installed for your own DIY projects. The Hazard Strips are also suitable for installation in any high traffic areas where a quick anti-slip solution is required.
Our Hazard Strips are quick and easy to install and are available in a range of colors and sizes.
CHARACTERISTICS
Slip Resistant Surface
Impact Resistant
Class 1 Flame Spread – Non Sparking
Corrosion Resistant
Lightweight
Tough & Durable
Choice of Colors
Choice of Sizes
Quick Installation
Non Metallic
APPLICATIONS
Ideal for use in high traffic walkways, decking areas, pontoons, ramps, access bridges etc.
TECHNICAL DATA
Description

Slip Resistant Decking Profiles

Top Finish

Carbon and Silicon Grip Top Surface

Stock Colors

Harzard (Black/Yellow)

Thickness

Normally 0.16″ Thick

Chemical Resistance

Different Chemical Resistance Available, Please Call our Technical Department for Advice.

Decking Strip Weight (per metre)

3'3″ x 2″ = 14oz

3″3 x 3.54″ = 25oz

Service Temperatures

-4 F – 176 F

Fire Rating

The resin system used as standard is: Class 1

Design Life

10-15+ Years (subject to traffic analysis)

General Use

Standard Pedestrian Traffic
SLIP RESISTANT LEVELS
Measured using the Pendulum test method (Four S rubber slider / 96 Slider) – standard simulated shoe sole.
| | | |
| --- | --- | --- |
| Top Surface | Dry Reading | Wet Reading |
| Standard Grit Surface | 80 | 75 |
The UK Slip Resistance Group guide to slip resistance of a floor for able-bodied pedestrians.
| | |
| --- | --- |
| Four S Pendulum Value | Potential for Slip |
| Above 65 | Extremely Low |
| 35 to 65 | Low |
| 25 to 65 | Moderate |
| 25 and Below | High |
To ensure that the above slip-resistant levels are maintained the Hazard Strips should be kept clean in accordance with our Cleaning Guide and Tips.